Animal Health and Well-Being
Our primary responsibility as egg farmers is ensuring the health and well-being of our hens. In order to produce safe, wholesome eggs, our hens must be healthy and safe 24/7. Hens on Versova's farms live in temperature-controlled barns where they are protected from predators and disease, and have constant access to fresh, clean food and water. Flocks are monitored every day by animal care teams and promptly treated by on-staff veterinarians when health concerns arise.
The Versova team is constantly adopting new methods and standards to ensure that our hens are given the best possible care. While production methods, housing styles and certifications vary among our farms, a number of Versova's farms operate under the United Egg Producers (UEP) Certified Animal Welfare Program, which sets some of the strictest industry standards of hen health and well-being. Our hens live in a variety of environments, including traditional and cage-free housing, but no matter the type of house they live in, all Versova hens are given the same excellent care.
With the mindset of continuous improvement, Versova and its farms are always looking for ways to improve, change and update policies that will help maintain compliance with standards. Maintaining the best possible care for our hens is non-negotiable at Versova and we do it because we care – it is our responsibility and it's the right thing to do.
Environment and Sustainability
Versova's farms are nestled in the communities where our families and employees live, work and play, which means it's our shared responsibility to identify and implement practices that will protect the environment around us.
Our primary goal is to reduce our use of natural resources and lessen our environmental footprint. Our teams achieve this by developing and enforcing manure management systems on our farms, working with local soil and water conservation agencies, increasing feed efficiency by making nutritional improvements and reducing feed waste, evolving hen housing to reduce energy use, and recycling and composting as much as possible.
Versova is a member of the U.S. Roundtable for Sustainable Poultry and Eggs, a multi-stakeholder organization built to advance, support and communicate continuous improvement in sustainability for the value chain. As a member, we are an active participant in developing the first-ever sustainability reporting framework for the U.S. supply chains for chicken, turkey and eggs from producer to the final customer.
We are dedicated to implementing and enhancing sustainable practices on our farms to ensure a better tomorrow for future generations. Our sustainability report highlights our work as innovators who are doing what is right for our people, the planet and the poultry in our care.
Egg Safety
We recognize that assuring the safety and quality of the foods we produce at Versova is one of the most important commitments we can make to our customers and consumers, and is essential to maintaining their trust in us as a food producer.
Versova's farms participate in several national quality assurance programs and implement on-farm safety practices to ensure the quality and safety of our eggs and egg products. On Versova farms, we:
Follow U.S. Food and Drug Administration (FDA) Egg Safety Final Rule regulations
Implement comprehensive on-farm biosecurity programs
Practice Salmonella Enteriditis (SE) prevention methods
Implement a Hazard Analysis and Critical Control Points (HACCP) program
Maintain Safe Quality Food (SQF) Level 2 Certification for all eggs and egg products
Provide on-site United States Department of Agriculture (USDA) verification
Obtain regular third-party audits
In Our Communities
Versova and its family of farms are committed to engaging with and giving back to the communities in which we work and live. Under our guiding principles of stewardship and servant leadership, our teams live by our core values of community and service through charitable giving and volunteerism.
The Versova Foundation
Versova directs its charitable giving efforts through the Versova Community Foundation, which supports the communities in the states where Versova farms operate by raising funds and providing grants to registered not-for-profit organizations.
The Foundation's giving is rooted in four pillars that closely align with Versova's core values and guiding principles: Hunger Relief, First Responders, Youth in Agriculture and Mental Health.
Versova and its farms are always looking for new ways to make an impact within these focus areas and support the communities where its employees live and work. Visit Our Foundation page to learn more about grant application or involvement opportunities with the Versova Community Foundation.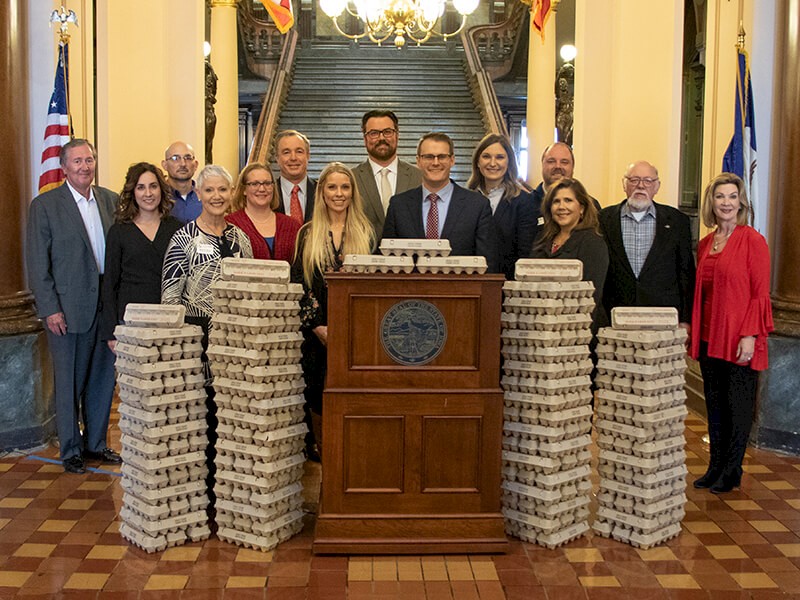 Hunger Relief
As producers of affordable, highly nutritious eggs and egg products, Versova embraces the responsibility of putting food on the tables of those who are facing hunger, which is why hunger relief is a pillar of the Versova Foundation. Versova regularly supports national hunger groups and programs, such as Feeding America and AEB's Fighting Hunger by the Dozens, in addition to its localized efforts to fight food insecurity in its farms' communities.
In Iowa, Versova has joined other egg producers statewide to donate eggs each month to Iowa's food banks to help reduce hunger through Iowa Egg Council's donation program, Cracking Hunger. Versova donates more than 86,000 eggs each month to the effort.
Versova's farms in Ohio, Trillium Farms, have a long partnership with the state's hunger relief providers, working in collaboration with Ohio's egg producers and the Ohio Poultry Association. Trillium donates more than 2,000 dozen eggs per month to foodbanks and local pantries. In addition, Trillium employees have volunteered at local foodbanks helping with meal preparation and filling backpacks for schools.
Willamette Egg Farms, located in Washington and Oregon, contributes more than 12,000 dozen eggs annually to local hunger relief efforts including donations to food banks and pantries in both states.
Community Involvement
At Versova, being present in our communities is more than just where we farm. Our teams participate in annual fairs and parades, engage with local 4-H groups at our farms and events, and regularly visit local schools to teach children about responsibly caring for animals and producing high-quality food to help feed the world.